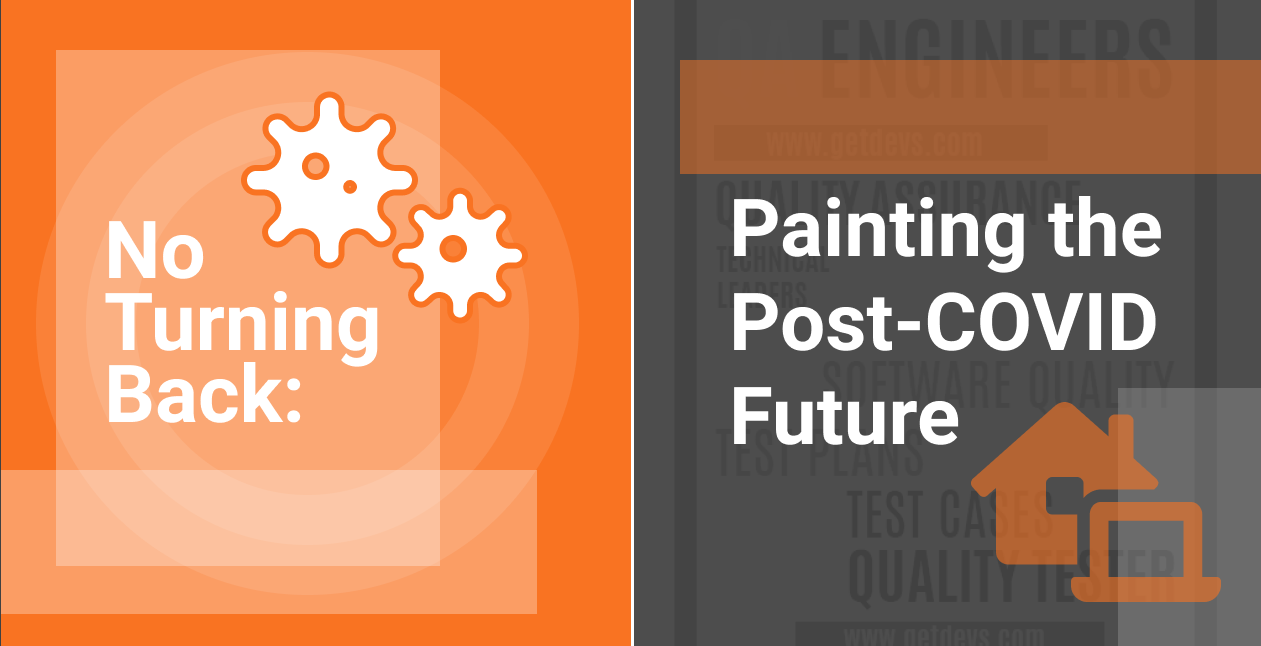 Even if the virus were to be eradicated, the world won't return to the way it was. Let's peek into the possible future of work and software development.
As vaccines become available to more people worldwide, all sectors (schools, businesses, governments) are surmising how the way we work and live will change well after the pandemic. In this article, we look into three trends that could dictate or influence the next few years for the software industry.
Increase in remote working. The promise of immunity doesn't mean people are ready or willing to spend prolonged hours in offices again. At best, workers (including software developers) are expecting a hybrid setup from their companies in the next few years, maybe even permanently.
The fear that managers may have of losing productivity to the remote setup has long been debunked; some may argue we've even become too productive at home. Research agency Gartner says in their report (C-Suite: Redesigning Work for a Hybrid Future) that giving employees the "radical flexibility" of deciding where to work may even allow them to thrive. It's the output, they say, rather than visible activity that will be the true metrics of tomorrow's work setup.
It's not just the employees who will benefit. Companies will be freed from the limitations of hiring with proximity as a key factor. Without the necessity to keep a team in the same room—or in the same timezone—makes it possible and strategic to cast their nets wider in finding the ideal talent.
Accelerated digital transformation. The same report reveals that 16% of employers have upped their reliance on tech as they manage their mostly remote workforce. From administrative functions (such as clocking in and filling out timesheets) to monitoring, production, and communication, teams from many industries employ a rotation of mobile apps and desktop programs to keep the business running. Outside work, devices run our life, too.
As makers of these programs, this means more users. More users mean more work. More work means more software developers are needed to meet the demand.
High value on resilience. One of the universal imprints of the pandemic is the exposed fragilities of work, life, and play systems that we've accepted as optimal. For one, as Garnier found in a separate survey, 55% of organizational redesigns were focused on enabling workers to get more things done in less time or with less help. This mindset (often rooted in rigidity) may not always work in periods of disruption, where companies could benefit more from flexibility.
More than efficient employees, studies find that resilient workers may be the ones to carry a company to continued success. When we talk about resilience as a personal quality, we look to people who are able to bounce back and grow from life-changing events. The World Health Organization's 2020 policy says this is shaped by "supportive environments". Companies would do well to invest in programs and tools that help safeguard their workforce's physical, mental, social, and financial needs.
On a different note, resiliency is a principle software developers may need to consider more. When much of our activities are digital, technical failures can have bigger impacts on our lives than they used to. It's not just humans that need to be more resilient; software, too.
---
Our reality is ever-evolving. To navigate the uncertainty, managers can arm themselves with foresight and boost their teams with top talent who can weather the changes with them.
For over 10 years, Get Devs has been in the business of connecting software companies with developers in the Philippines. Schedule a consultation.