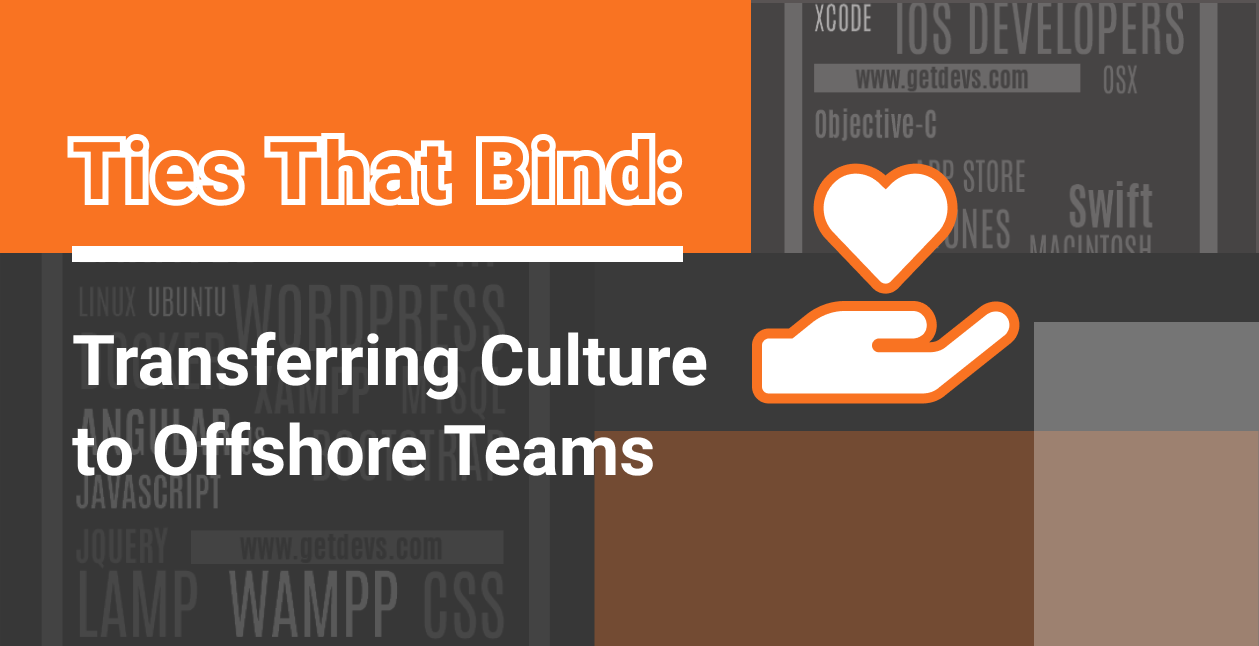 From onboarding to daily interactions, culture-building with offshore teams is a continuous process.
— One of the barriers businesses consider when hiring offshore is cultural match. When you're sourcing from an unfamiliar territory, there is the possibility of ending up with a new team member who just doesn't get how you think and work. Bad hires can hurt a business multiple ways: high cost with no ROI, pulled-down team productivity, and poor output.
Even in a regular hiring process, a candidate's personal culture could be an afterthought—if it's thought of at all—with some recruiters focused solely on ticking off the more obvious qualifications. A well-planned offshore recruitment strategy considers it from the beginning, setting filters throughout hiring levels (job creation to final interview) so you mitigate the risk.
Once you find the right candidates, you'll want to get them off to a great start. An onboarding process is crucial to make sure offshore employees gain a deeper understanding of the company and its goals. Typically, this happens on or before their first week and covers employment basics (benefits, equipment issuance, HR procedures), ways of working (team hierarchies, operational processes), and the company's story (mission, vision, principles).
But a company's culture is bigger than statements on paper, important as they are. It's a lived experience that your new team member will pick up more from day-to-day interactions with others and through the work you do together. You'd want to reinforce the culture at every opportunity you get.
---
When offshore hires are better adapted and integrated, you get a stronger team that produces results.
Here are four things to consider:
Get them in on the big picture, and give them a sense of ownership.
From the product owner to developers and other members of the working team, everyone needs to have a singular understanding of what their collective objectives are. Each member may have different strengths, but they need to move in one direction to succeed—including offshore employees. Involving them in some high-level discussions imply that you expect them to fully inhabit the role they play through the work and will turn them into more competent contributors for the business.
---
Set the tone for inclusive and barrier-free collaboration.
Treat offshore and local employees the same way. Especially for similar roles, establish uniform expectations in terms of quality of work—trust that both are just as capable as each other to meet your high standards. Foster an open connection between both sides, so your offshore hires can have more resources to help them immerse in their new environment.
---
Be aware and accept that there will always be differences.
The goal of onboarding is never to downplay the culture of the offshore employee but to help them adapt to yours. The sooner both parties recognize this, the faster you can learn to manage the contrasts. Culture evolves, too; you might even find their distinct qualities a great addition to yours.
---
Promote open communication.
Leave room for asking questions and sharing constructive feedback on all sides. Asking what you don't know is a highly underrated habit, but it saves both parties the headache of trying to figure each other out.
---
Maximize growth for your software business with offshore employees who fit into your culture. Achieve higher efficiency in getting well-adjusted team members by hiring in the Philippines, the most culturally westernized of ALL software outsourcing destinations.
Overcome cultural barriers and get the full benefits of hiring offshore. With Get Devs, you work with account and HR managers who will help onboard and manage the talent. Schedule a consultation.