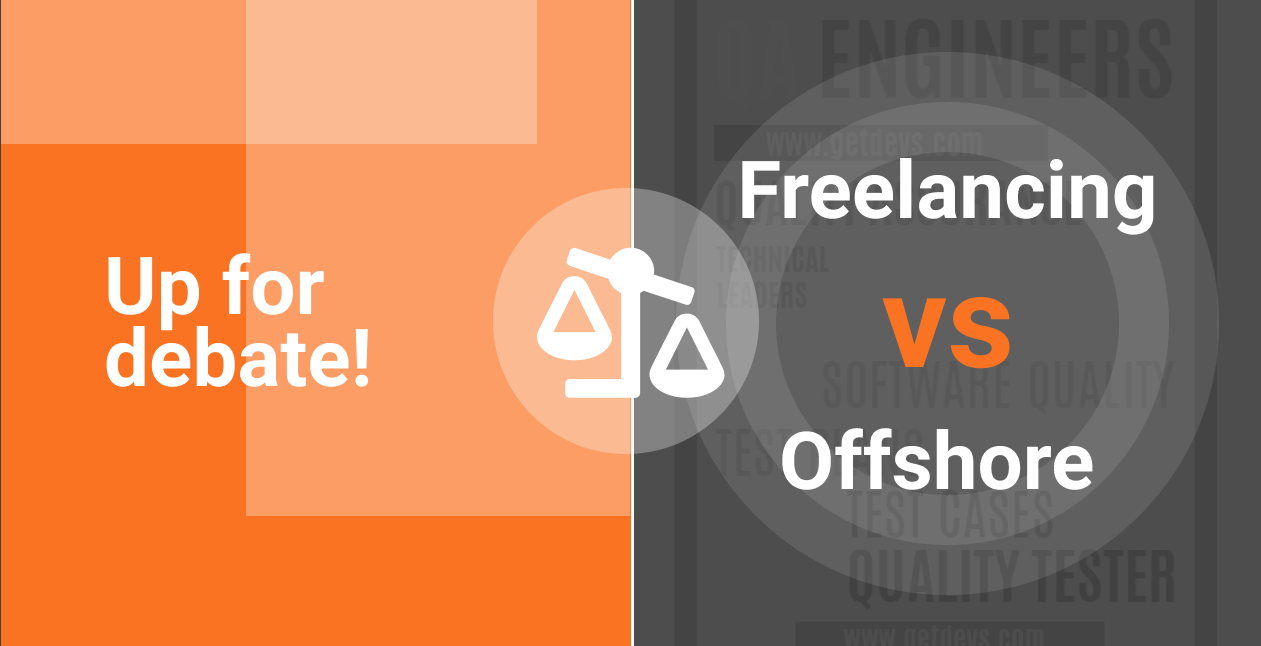 When building a distributed software team should you use freelancers or dedicated resources through a corporate partner? It's a high stakes decision for a company looking for sustainable success.
Remote work has become a new reality for many industries all over the world. In recent years, businesses and their processes have become more flexible, allowing employees to work from any location without disrupting production. Teams are also becoming multinational, welcoming members from thousands of miles away who can help them achieve business goals.
Amid the changing face of work, outsourcing activities thrive with 58.8% of U.S. marketers continuing to look elsewhere for employees to hire, despite the challenges of the pandemic. Statista predicts that by the end of 2021, the IT industry will clock in over $413.72 billion in value of outsourced services, fueled by a shortage in tech talent that's plagued it for a decade. Aside from access to a bigger pool of candidates, their main motivation for outsourcing: cost reduction.
Many software companies are moving away from building fully in-house teams in hopes of streamlining their expenses, processes, and focus. And when a company is ready to outsource developers, they tend to look into two sources: freelance communities and offshore recruitment.
By nature, a freelancer is a temporary worker who offers a service to companies and other individuals. They are self-employed, tied to a client only through a written or verbal agreement that may or may not be legally recognized.
Main advantages: They're typically low-cost, paid in packaged rates or hourly fees without additional benefits or bonuses. Freelancers are also quick to hire, with online communities teeming with candidates ready to jump on new work in a day or two.
It's a good option for when you're looking to fill a short-term need, such as a reliever for an employee on a holiday or to assist on a one-off project that you need to complete in a given period.
Drawbacks: But while it's quicker to contract them when expanding abroad, the tricky part is landing the right one. Often, you will have to look through dozens of profiles and portfolios on several websites, and find mostly entry-level talent with no formal background. Some companies suffer a trial-and-error period with several freelancers that can eat up more budget than expected and pull down productivity.
Their schedule and concentration are a gamble, too. Freelancers can be good self-managers, but because they're not expected to adhere to your processes, there can be mismatched priorities. They won't be loyal to your business and can work for competition unless you agree otherwise in the contract.
Most importantly, many companies using offshore freelancers are not aware of the legal liabilities they incur at home. There is a fast growing trend of foreign freelanders who have never entered the US successfully suing the companies they work for and winning full benefits packages and employment status.
Legal offshore employment
It's essentially a managed service. On paper, an offshore hire is the hiring company's employee but functionally, they're part of your team. You give them regular tasks and involve them in projects that your local employees are also working on, but it's the hiring partner who's concerned with their HR, benefits, healthcare, and compliance needs.
It's evolving into a preferred option for companies who need a dedicated resource primed to stay with them for the long haul.
Main advantages: From a legal standpoint, they're virtually risk-free. In the case of Get Devs, we are a U.S. company with an offshore subsidiary, so we are able to legally employ resources in the Philippines. The talent we hire have contracts with us and will have no employment claims with clients. Freelancers, however, when engaged with a U.S. company for extended periods can file for employment status that could force fines and back benefits on the hiring party.
An offshore partner can vet high-quality candidates that go through a stringent hiring process that goes through background checks and with verified employment history. Candidates also tend to eye permanent employment, and so it's easier to keep them around and nurture their growth. When an employee underperforms, they can be coached, trained, and guided back into shape by their local manager.
With an offshore employee, you have better control of working hours, work environment, and data security. They follow your schedule and your process, and your hiring partner can oversee technical issues and compliance.
You can expect a more harmonious team dynamic. Offshore hiring makes considerations for team setup and culture, so you get individuals who can work together and play on each other's strengths, even if they've never been in the same room together.
Drawback: Compared specifically to a freelancer, an offshore hire would require longer term contracts, but depending on your needs this might be an advantage.. Side by side with an in-house model, offshore saves you about ⅔ of the cost of direct local employment while yielding more benefits.
Which gives you better returns? The answer is rarely black-and-white, but understanding the key differences between the two can help you make the right decision for your business. If you determine that an offshore software team is what you need, your first step should be to find a partner who can get you the best talent.
Get Devs has been filling the demand for good software developers for a decade. Let us connect you with the right people starting today. Schedule a consultation.